In our ongoing pursuit of opportunities to strengthen our presence and contribute to the growth of the used machinery market in Southeast Asia, MachinePoint will be one of the sponsors at two prominent events: the ASEAN Flexible Packaging Summit 2023 and the Indo Pacific Circular Plastics Summit 2023, which will take place in Indonesia from October 24 to 27 at the Holiday Inn Jakarta Kemayoran.
As global leaders in the buying and selling of used machinery for the plastics and beverage industries, we consider this initiative a significant step in our expansion in this strategic region.
The flexible packaging market is one of the most dynamic and promising segments in the global industry. In 2021, its size reached $124.9 billion, and it is projected to grow to $162.4 billion by 2027. This growth is largely attributed to technological advancements in packaging, which are redefining the way flexible packaging is perceived. Product differentiation, technical development, and innovation have become the primary drivers of the sector.
Consumer preference for flexible packaging is also on the rise, as it is not only cost-effective but also minimizes product waste and ensures the safety and quality of food and other products. This trend has become even more relevant in Southeast Asia, a region experiencing rapid industrialization and a growing demand for packaging solutions that extend the shelf life of products in industries such as food. At MachinePoint, we are committed to playing a pivotal role in this development by supplying high-quality used machinery that supports sustainable growth in the region.
MachinePoint in Southeast Asia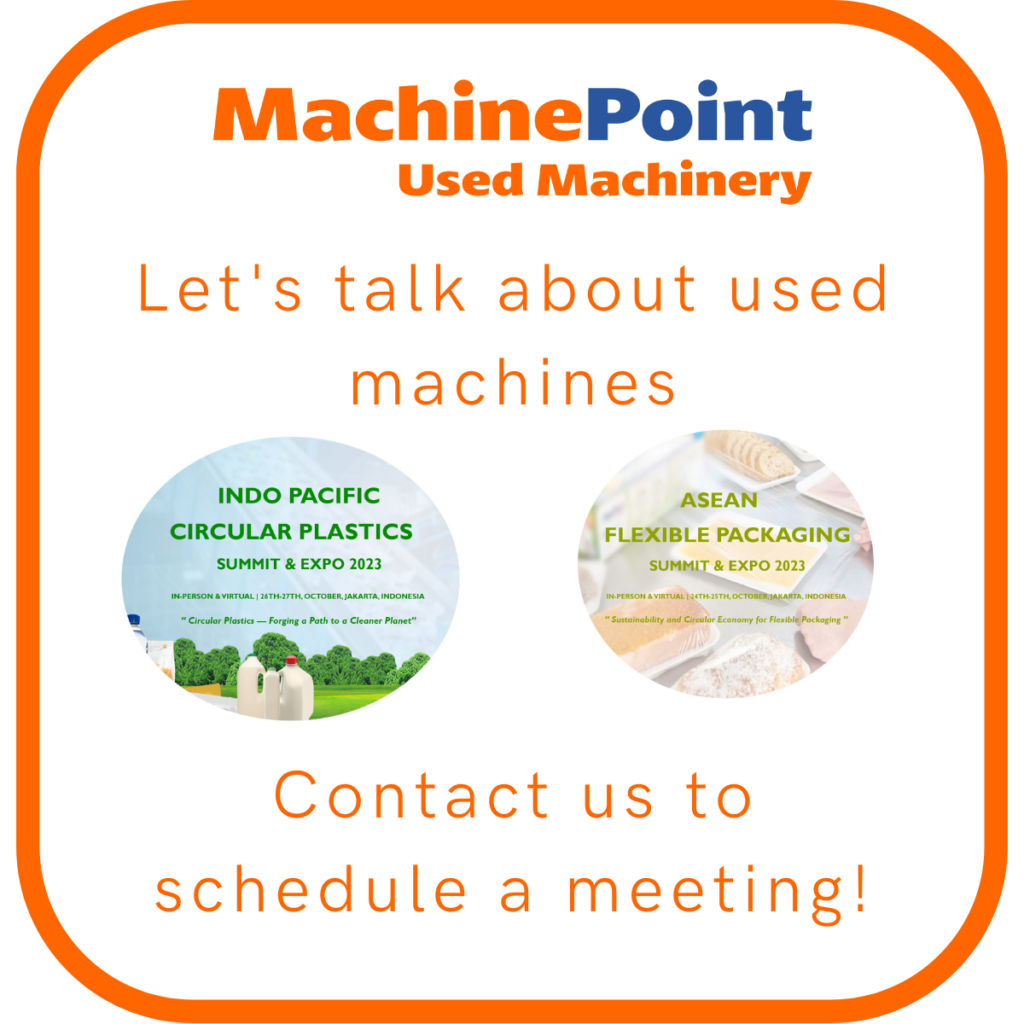 Our participation in the ASEAN Flexible Packaging Summit 2023 and the Indo Pacific Circular Plastics Summit 2023 underscores our dedication to supporting sustainability and efficiency in the flexible packaging industry in Southeast Asia. Through these events, we have the opportunity to establish valuable connections with industry professionals and share our expertise in used machinery with businesses in the region.
The ASEAN Flexible Packaging Summit 2023 aims to provide a business platform focused on product development, innovation, and expansion in the flexible packaging industry in countries such as Indonesia, Thailand, Vietnam, India, and other regions in Asia and around the world. This event is expected to be the largest of its kind since 2019 and will bring together hundreds of industry supply chain professionals.
MachinePoint's participation demonstrates our ongoing commitment to being a trusted partner for companies looking to buy or sell their used equipment. Used machinery is an option for those seeking short delivery times and good value for their money. Furthermore, MachinePoint offers a comprehensive solution, facilitating all the necessary services for both buyers and sellers to conduct transactions safely and with confidence.
At MachinePoint, we see a promising future in the Southeast Asian market, and we are ready to be part of that journey toward sustainable and prosperous growth.