"The most expensive machinery investment is the one made on a machine that never gets to work". That is César Rodríguez's opinion after more than 30 years of machinery experience. "The second worst investment is receiving a different machine than the one purchased".
One of the things that sets MachinePoint apart from other used machinery businesses is the trust that we build with our customers. To enhance and maintain this trust, we continue to strengthen our customer security compliance efforts investing time and resources to assure customer protection and safe transactions. At MachinePoint, security compliance is not merely a set of rules to follow, it is embedded in our company culture and a fundamental part of the way we do business.
Over the last two decades, we have developed a proven methodology that protects all parties involved in the transaction. The methodology is not an industry standard, but the result of 30 years of experience selling new and mainly used machinery and overcoming many critical situations that have taught us how to make safe transactions.
Most transactions done by MachinePoint involve international money transfers and international machinery moving and are often with technical and financial complexity. Having a rigorous procedure defining all the correct steps and documentation in place and doing a meticulous due diligence of the parts involved in the transaction is fundamental to reducing fraud.
Cesar Rodriguez, MachinePoint CEO comments: "We have faced many interesting situations over the years. It is never enough to be extra careful so we have established procedures within our company to avoid fraud. Our legal department has developed secure contracts to avoid any types of fraudulent actions."
Fraud comes in all shapes and sizes and can be very innovative. MachinePoint has faced fraud on several occasions. We could classify fraud in different categories: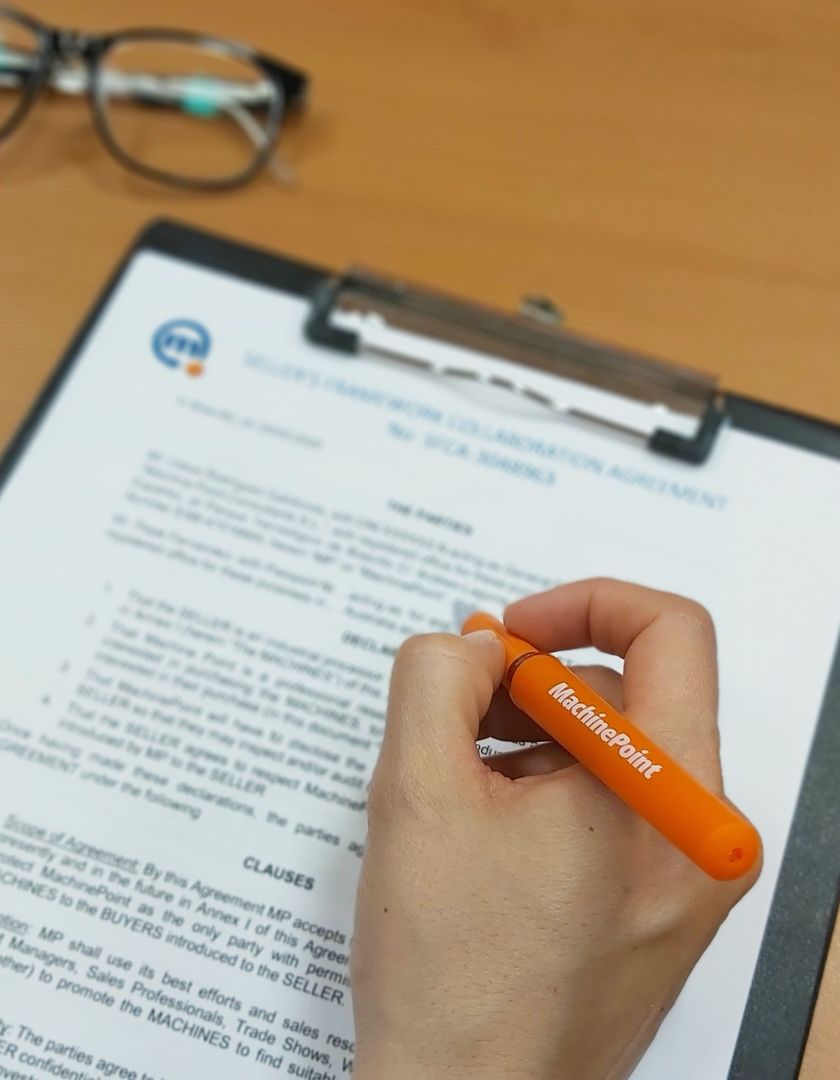 BUYER PROTECTION PROCEDURE:
1. Machinery identification. Sometimes sellers direct dismantling teams to load the wrong machine; sometimes auditors sent by the buyer are indicated the wrong machine to audit. MachinePoint's supervisory protocol avoids such situations. In its absence, the mistake is uncovered too late by the custom agents once the machine has been paid and removed from the factory.
2. Secure payments. Many companies have already experienced paying for something and then getting nothing or something different in return. MachinePoint has a proven track record for secure transactions and an intermediation guarantee, having returned money to many buyers if the transaction was not completed as agreed.
3. Espionage. Very rarely we have had situations where the buyer is trying to learn trade or operating secrets from the seller but they do exist. MachinePoint's protocol includes identification and investigation of buyers to make sure that they are not a different person or company than the one invited.
4. Professional delivery. Machinery correctly dismantled is key to being able to restart the equipment at its next destination. Numbering electromechanical parts, choosing adequate conservation & packaging, correct loading, lashing, shipping, exporting, importing and insurance are an important part to avoiding accidents or to be able to respond should they occur.
5. Illegal goods trafficking. Drugs, jewelry, gold or animal trafficking are serious offences and no company wants to learn that their machine arrived filled with illegal goods. MachinePoint has the experience to avoid surprises to buyers and has a number of protocols in place to take special care in supervising, photographing, contracting, invoicing, loading and delivering the machines.
SELLER PROTECTION:
1. Money laundering. MachinePoint protects the seller by making sure that the money used to pay for capital equipment is clearly identified, comes from the buyer and not from illegal money sources. The seller can rest assured knowing that MachinePoint follows the highest business standards.
2. Avoid claims. MachinePoint guarantees its intermediary services and takes care of all buyers complaints about the machine purchased. Our experience makes contracting and expectations clear to buyers, resulting in higher customer satisfaction. This is why large multinationals contract us as intermediaries for internal transactions to avoid inter-group problems.
We believe that fraud prevention is everyone's responsibility. Your best defense is to be aware, educate yourself, use good judgment and choose professional providers. Relying on a professional partner for buying and selling used machinery will ease the process. MachinePoint is committed to fighting scams and helping customers from falling victim to fraud.